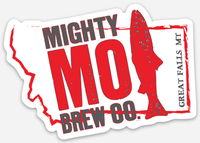 Mighty Mo Brewing Co.
Located in the middle of Downtown Great Falls, we intend to give downtown a much needed boost to revitalize the most underrated area in town. Our historic building was restored in recent years, providing a wow factor when you walk in the door, preparing you for the tasty brews you are about to indulge in! Mighty Mo has a full kitchen, offering pizza, wings, sandwiches, salads, and appetizers to go with your high quality, flavorful craft beer. We designed Mighty Mo Brewing Co. to be a place where new and old friends can meet to enjoy quality beer, great food, and live music.
Make this Notebook Trusted to load map: File -> Trust Notebook
Details
412 Central Ave
Great Falls, MT, 59405
(406) 952 - 0342
Get me there!