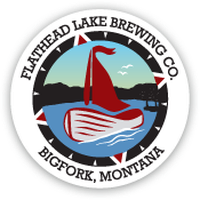 Flathead Lake Brewing Co. - FLBC Pubhouse
The Flathead Lake Brewing Company started in 2004 in Woods Bay, Montana. Our owner Greg Johnston has two very specific goals. The first: to make the best beer ever. The second: to have fun doing it. Naming the brewery wasn't hard. FLBC overlooks the shores of the largest freshwater lake in the West – and we would argue the most beautiful.
In 2006 we were honored with becoming the youngest brewery ever to win not just one, but two, World Beer Cup awards. Our brewery brought home a Bronze medal for our Peg Leg Porter (now the Painted Rock Porter) and a Silver medal for our Mutiny Stout (now the 369′ Stout).
By 2010, Greg's daughter Sandy Johnston joined the crew and took over as General Manager and helped remodel the taproom in Woods Bay into a pubhouse and started on the rebranding of the company's look.
By 2012 the Woods Bay brewery was at full production and plans were made to expand. With not wanting to leave home (Bigfork) the old bowling alley in Bigfork was acquired and the next two years were spent remodeling the building to become one of the most sustainable breweries in Montana. In 2015, Sandy's FLBC Pubhouse and Greg's second brewery opened in Bigfork.
Now, one can find an FLBC ale throughout Montana, Eastern Washington, and northern Idaho.
We at FLBC work hard, play harder, and do everything to the highest standard. For us, it's about being leaders in the beer industry, it's about supporting local and environmental sustainability, and it's about contributing to the community that has so graciously embraced us. Most importantly for our crew, it's about making beer and food that we are proud of. We love what we do, and we hope you do too.
Montana is the Treasure State, and we are Montana's Liquid Treasure.
Make this Notebook Trusted to load map: File -> Trust Notebook
Details
116 Holt Dr
Bigfork, MT, 59911
(406) 837 - 2004
Get me there!